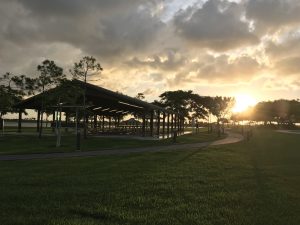 There are more than two dozen park and recreations areas in Boca Raton, so there's always somewhere to go with you family for picnics, sports and interesting activities. Below are 6 reasons to visit South County Park (AKA  Burt Aaronson South County Regional Park), which many residents consider to be the gem of the Palm Beach County park system.
So if you haven't visited recently, or you're looking for homes in Boca Raton and you want to know what the area offers, you'll want to see what this amazing, 900 acre regional park has to offer.
Coconut Cove Water Park
In the summer, many of us are looking for ways to cool off, especially if you have children or grandchildren around. Fortunately, this park has its own large waterpark that includes a lazy river, multiple water slides, and a water playground. There is also a lap pool.
Inside, you'll find on-site lockers, as well as restrooms and a snack bar. And if you're interested in private events, you can rent rooms for birthday parties or other special occasions.
Sunset Cove Amphitheater
Large enough to host five thousand patrons, the amphitheater features music festivals, cover bands, movie nights, and national tours. It can be a great option for family entertainment or a night out for the adults. Also, on every 1st and 3rd Wednesday, the Parks and Recreation Department hosts the Food Truck Invasion, which is a nice opportunity to sample new local flavors.
Daggerwing Nature Center
We have multiple top-notch nature centers here in South Florida, and Daggerwing should top any list. It offers excellent nature trails and an observation tower (those wary of heights might want to skip this part). There are educational opportunities for the kids, including a reading nook and puzzle center. And there are multiple exhibits like the Insect Zone, turtle exhibits, and Conservation Corner.
Sports Facilities
In addition to the 27-hole golf course, there is a cross-country course and courts for tennis and racquetball. There are also fields for baseball and soccer as well as basketball and volleyball courts (both sand and hard courts). There's even a water ski school and training center and a track for remote control cars (if you want to call that a sport). Of course, like any decent park, there are also plenty of walking and biking paths to keep you busy.
Picnic Areas and Playgrounds
Along with these special amenities, Burt Aaronson Park is just a great place to go relax and spend time with family or to retreat from your busy day-to-day activities. There are plenty of picnic tables and pavilions available for reservation. Spend some time grilling or trying to catch some bass on Sunset Lake.
Canine Cove Dog Park
Don't worry about bringing your dog either. Next to the fenced playground, you'll find a spacious dog park with multiple sections for various sized dogs. So after your walk, give yourself a rest and give your favorite four-legged friend a treat of some off-leash time.
Takeaway
We're fortunate to have some excellent outdoor recreation spaces in and around Boca Raton. Not many have as many great features as Burt Aaronson South County Regional Park. You will definitely want to pay a visit if you're thinking about homes in Boca Raton because South County Park. If you're in West Boca Raton the park is close at hand, but it's worth the few extra minutes travel from east Boca because of the wealth of activities there.
We would love to help you find the perfect home in this part of South Florida. For more information on homes in Boca Raton and the surrounding areas, contact the Jablon Team.
Marc Jablon, the Jablon Team
New Harbor Realty
[email protected]
561-213-6139
http://www.JablonTeam.com